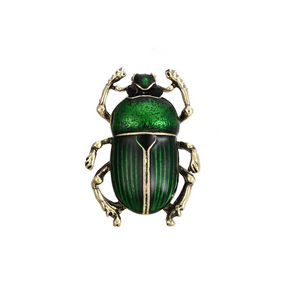 Broche Escarabajo verde
Green Beetle Brooch
Por favor:
Contar de 2 a 4 días de elaboración manual del producto -esto quiere decir que tendrás tu pedido en casa en un mínimo de 3 a 11 días hábiles a partir de tu pedido en esta web. Normalmente tarda una semana-.
SI NECESITAS TU PRODUCTO PARA UNA FECHA ESPECIAL O CONCRETA - por favor, háznoslo saber a hello@prunetheflowers.com para que podamos apresurar tu pedido, y en el caso de que estimemos que no llegásemos a tiempo, te avisaremos.
ESP -  Este artículo está hecho a mano y es una edición limitada de Prune The Flowers.
No se aceptan devoluciones. Solo si el producto le llegara dañado, puede ponerse en contacto con nosotros para ver el procedimiento si procede.
Cualquier duda contacte a través de hello@prunetheflowers.com

Please notice:
Count with 2 to 4 handcrafting days for the assembling of the product - this means you'll have your order at home in minimum 3 business and maximum 11 business days. It normally takes a week.
IF YOU NEED YOUR PRODUCT FOR A SPECIAL DATE - please let us know so we can hurry up your order.
ENG - This item is handmade and it is a limited edition from Prune The Flowers
No refunds. Only if the product arrives damaged, you can contact us and follow the fast-track procedure Prune The Flowers is proposing.
anything, hello@prunetheflowers.com