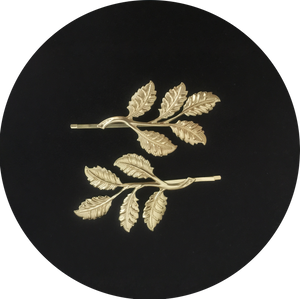 Horquillas rama de latón dorado.
Golden brass branch hairpins.

Por favor:
SI NECESITAS TU PRODUCTO PARA UNA FECHA ESPECIAL O CONCRETA - por favor, háznoslo saber a hello@prunetheflowers.com para que podamos apresurar tu pedido, y en el caso de que estimemos que no llegásemos a tiempo, te avisaremos.
VIENE UN PAR - Dos horquillas que miden 7.8x4.5cm aprox.
Ningún artículo se puede devolver, salvo que te llegue defectuoso. Háznoslo saber a hello@prunetheflowers.com
ESP -  
No se aceptan devoluciones. Solo si el producto le llegara dañado, puede ponerse en contacto con nosotros para ver el procedimiento si procede.
Cualquier duda contacte a través de hello@prunetheflowers.com
Please notice:
IF YOU NEED YOUR PRODUCT FOR A SPECIAL DATE - please let us know so we can hurry up your order.
IT'S A PAIR - Sold a pair and measures 7.8x4.5cm aprox.
The item cannot be returned, just in case of the item is faulty. Let us know writing an email.
ENG -
No refunds. Only if the product arrives damaged, you can contact us and follow the fast-track procedure Prune The Flowers is proposing.
anything, hello@prunetheflowers.com